When planning to camp in the rugged mountain air, you will be more comfortable than ever. It's the perfect setting for getting away from the stresses of modern life. It allows you to enjoy nature and get back to the basics. Just make sure you bring along all of your favorite camping gear to enjoy the best camping for beginners. 
In general, camping can be done in two ways: front-country camping and backcountry camping. Front-country camping is done at sites that are easily accessible for people with or without a vehicle.
These sites usually have designated campsites, parking spaces, and toilets. On the other hand, backcountry camping is done far from any established roads or developed areas. This type of camping typically involves backpacking or hiking with all your supplies to a site.
So, as beginner campers, which camping option should you choose in the first place? We did a little research on the topic and found out that there's no need to follow a specific camping type. You can simply arrange a camping trip based on your preference and start preparing for the essentials needed. 
In this article, we have shared a complete camping guideline for beginners. Howbeit, if you'd ask what is the most vital basic to consider in camping? We would suggest that it's your camping equipment. So, to make your first camping trip successful, no matter your experience level, make sure you set yourself up with the proper camping gear and double-check your camping checklist. 
The Types of Camping in a Brief
Although most of us think of camping as going to a particular place, setting up a tent, and cooking our food, We may enjoy such trips in other ways. Over the years, people have been arranging camping trips in various ways that don't necessarily include the same camping gear all the time.
We have also experimented with some of these different camping types and concluded that it brings more joy than traditional. Thus, we decided to share our judgments on the very two types of camping in brief.
1. Primitive or Front-Country Site Camping
Primitive camping is all about spending your nights in a safe place near the roadside, national parks, or a crowded land. You don't need to choose any designated camping place or bring heavy camping gear. In other words, you can spend the night in your private car if there's no availability of a tent.
Primitive campsites are primarily designated for a short-time escape from city life. Whether you come with your friends or family, such a camping trip will ensure apparent safety for all of you. So, it's time to set up a tent, fix a BBQ stove, and enjoy a night without any hassle. You will have quick access to local products and people in case of an emergency.
On a note, we suggest you pick a primitive site that's been visited previously by other campers as well. And, of course, you should never choose a private place without the permission of the owner.
2. Backpacking or Backcountry Site Camping
Backpacking, the term itself, signifies how adventurous such a trip can be. If you are more of a true traveler, having the energy to continue journey after journey, carrying all the camping supplies in a backpack, then such campsite planning is for you.
Backpacking or a Backcountry Camping Site requires adventure seekers. It mainly includes a designated campsite with a proper camping plan for a week or two. You need to bring all the minimum and essential camping gear here. Besides, it calls for a clear weather forecast and environmental knowledge before finalizing the trips.
On a note, we suggest if you are a beginner, it's best to go on such camping with an experienced guide. That way, you will get a live demonstration of all the camping arrangements. You can also consult with a local gear expert or a park visitor about other camping information.
An Initial Guideline for Beginner Camper
Don't worry if you are new to camping because it is not too late to take up this activity. Before going on your first camping, you should know a few things. Therefore, we have already prepared a guideline for first-time campers. And according to us, the most important thing is to understand the safety tips and the basics of camping from the beginning. 
1. Find A Developed Campground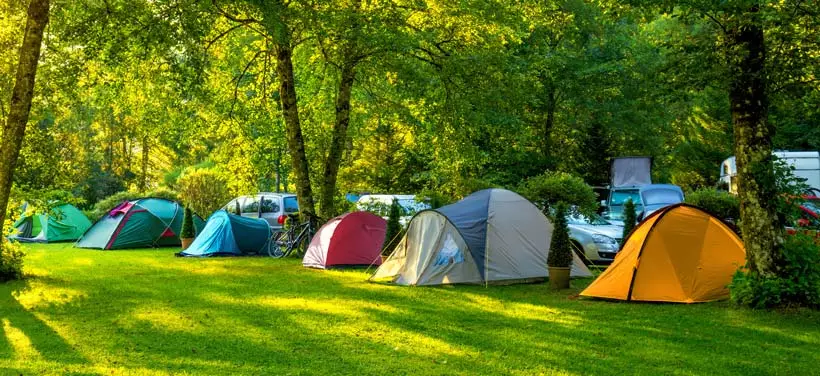 First-time camping can be overwhelming. It depends on the type of camping vacation you're planning, though. Different types of campgrounds range in amenities, activities, and general vibes. Some are considered kid-friendly, while others are not. Dogs are allowed at some developed campgrounds, and some even offer showers and Wi-Fi. 
Campsites without these luxuries can still be great for quality time. But that needs you to have every important basic stuff. Research the campsite before you go. Stay close to the city so you won't run out of supplies. Simultaneously, look for one with plenty of open space and breathtaking vistas. As a result, you'll be able to get the most out of your outdoor activities.
Although if you're going on a backpacking adventure, make sure to look for the best campsite around. It's always easier to go camping with a friend, so be sure to bring along someone who knows their way around the woods.
2. Research Weather and Environmental Conditions
As you search for the ideal campsite for your next adventure, think about the weather. When will you start your journey, and how many days do you plan to stay? Find historical data on past weather trends and get an idea of what the weather might be like when you arrive.
Then plan the day of your trip, and make sure you know what conditions you're heading into. You should also check out the environmental conditions of your chosen destination. It will ensure that you are safe and prepared for your trip.
If you plan on heading to a campsite during the peak of summer, you need to prepare for the heat. Also, find out whether it'll rain or not and what the temperature will be before you set off on your journey. Planning a winter camping? You need to pack extra clothing and essentials for winter camping. Furthermore, determine what the weather will be like at a specific year period.
3. Pack Essential Camping Equipment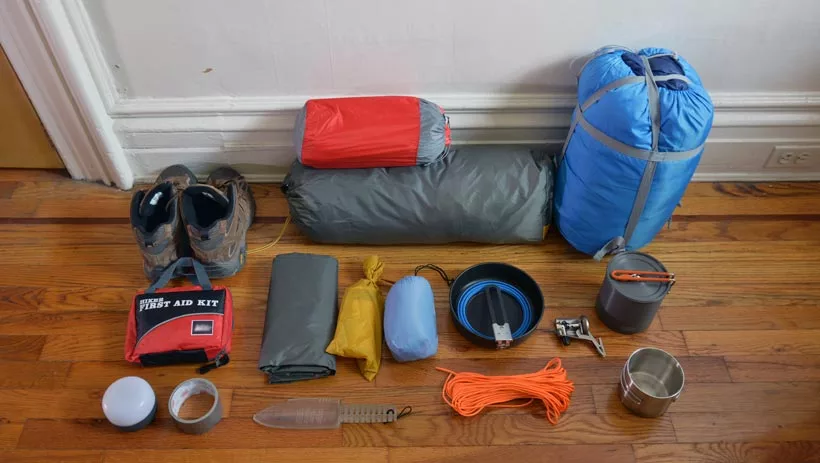 Now that you're armed with all of the knowledge you need for your backpacking trips, it's time to narrow down the equipment list. Depending on your camping type and camping activities, you can already figure out which things to pack.
Make sure to bring enough water, cookware, and sanitation equipment. You'll want to familiarize yourself with your tent and sleeping bag before setting up camp for the first time. Whether it's a weekend excursion or a multi-day expedition, these items will leave you prepared and comfortable — all for a reasonable price!
4. Purchase A Quality Tent and Sleeping Bag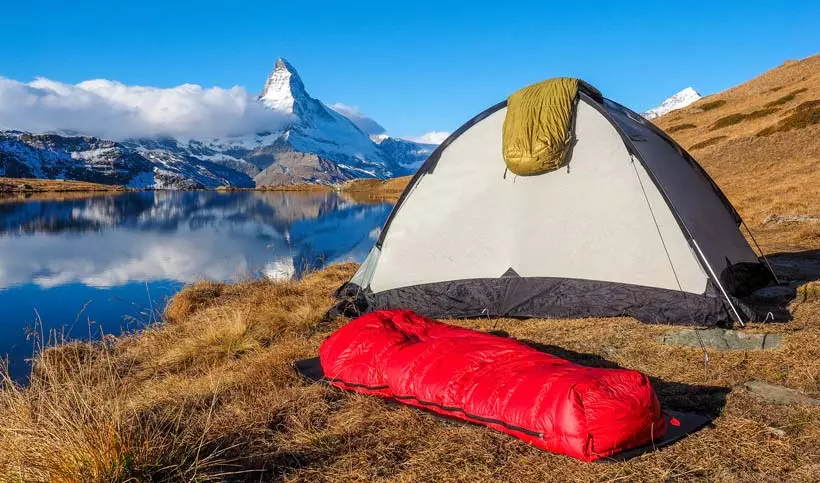 Picking a tent can be a daunting experience, with many types and sizes available. However, if you're an avid camper and know what you need, there are only three things to consider. 
The first consideration is capacity. It refers to most people who can sleep comfortably in a tent. 
The second thing is material. It refers to the tent fabric. In all other items, it's best to pick a tent that's one or two sizes bigger than the capacity recommended.
Make sure to pick an insulated tent if you are camping in winter. 
Whatever season you choose to camp in, bring a sleeping bag. The temperature drops quickly at night time. So be sure to obtain a sleeping bag with an ideal heat level for the season. 
Before buying a sleeping bag, pay attention to the rating and review of your sleeping bag. That way, you'll stay warm all night long. 
5. Practice Pitching Your Tent
If you've never pitched a tent before, odds are you'll run into problems when you get to the campsite. It can be nerve-wracking to put up your new tent on your first trip. 
Therefore, practice pitching your tent at home with a friend. You can both pitch the same tent in your backyard and see how long it takes you to do it. Then repeat the process to see if you can beat your last time. 
It is crucial to set up your tent correctly. First, make sure you pitch it in a level area free of debris, rocks, and tall grass. Pitch your tent in an area with level ground, avoiding any inclines that could cause damage to the floor-less structure. When tying the tent pegs, ensure that you angle them 45 degrees into the ground; it will give your tent a solid basis.
6. Plan Your Meals Beforehand
Don't go hungry on your camping trip. Plan a menu and make sure to pack all the ingredients. It's easier than you think! However, check with park authority rules if you are camping in a front-country site. That way, you will know if you're allowed to light fires.
And also, do some research around the area to see what restaurants are nearby if you can't build your campfire.
Camping cooking is easy and awesome — with a charcoal grill or portable propane stove, you can create anything from hearty stews to crispy bbq. If there's one thing campers love more than getting back to nature, it's the delicious food they eat while camping.
7. Cook Your Meals with A Campfire
Local campfires are allowed in most camping areas. Howbeit, they're subject to change with the season, temperature, and local regulations. Be sure to check the campground regulations before you start a fire.
If that's not possible, make sure to use only native woody plants when creating your fuel for fires. Burning invasive species can turn into a critical way to prevent the spread of unwanted flora around the country.
There are a lot of guides for how to start a campfire — and we recommend doing your research. But here's some basic advice that'll help you get started:
Find a level spot in the woods that's free of debris.
Obtain four large logs, so they're kindling-sized or smaller.
Arrange them in a cross shape.
Camp cooking adds a whole new layer of culinary exploration missing from many modern lives. Rather than cooking over an indoor flame, cooks can prepare elaborate meals and recipes around the campfire. That helps you experience new flavors in the process. With that, a camp kitchen should be stocked with a durable camping utensils set.
8. Beware of Bathrooms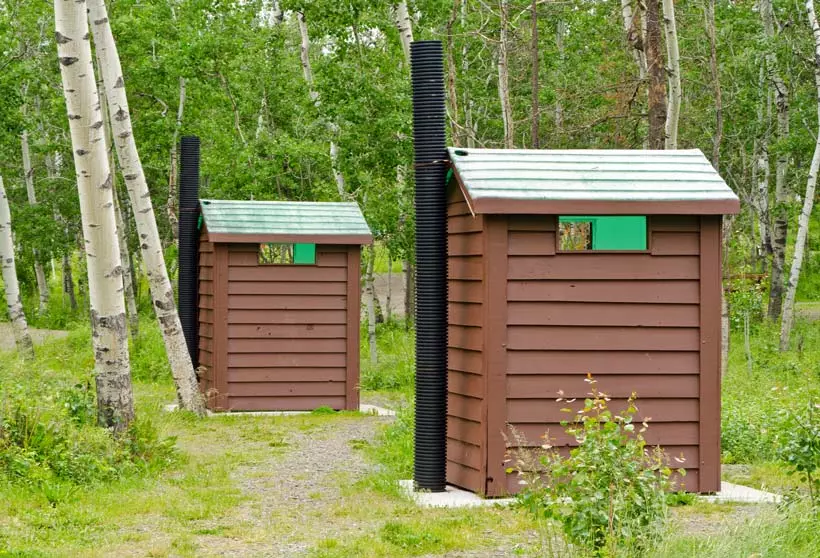 Fortunately, popular campgrounds offer a place to go to the bathroom. However, some campgrounds only have outhouses. Those are known for their unpleasant smell and other unsanitary conditions. Before you go on a trip, it may be a good idea to check with the campsite first to see if they offer flushable toilets instead of outhouses.
9. Basic Camping Tips for Beginners
You must have seen your fellow campers talking about a pre-planned camping trip and safety concerns. So, why do you suppose they do it? An experienced camper knows about the upcoming weather demands and probable dangers in camping. Hence, it becomes a significant issue to care about.
You have to be concerned about those factors too. For the basics, you must acknowledge the perfect timing for camping. It will help you to pack camping gear accordingly to your needs. Another vital basic is to figure out the best camping site.
For example, if you want to go on a family camping, it is much better to pick a front-country side rather than the backcountry side in the woods. However, you can pick a backcountry camping site for your personal camping experience. It depends on the types of people you go to the camp with.
Many young travelers have the energy and strength to fight against harsh weather and natural circumstances. On the other hand, family members, including kids and elders, can't cope with a hectic camping experience. Therefore, when working as a beginner camping planner, make sure to start with the following vitals.
10. Safety Concern
Safety comes first; this is a saying we have heard for ages. And when it comes to camping safety, it co-relates with what to bring camping. Now, what do we mean by that? In the last segment about the basics of camping, we highlighted the final basic need to pack the essential camping equipment.
That's because packing your camping gear as the environment demands will save you from many unexpected events on your journey. Let's pretend you're headed to a backcountry camping spot in the winter. The weather seems not too cold in the city life. And so, you have packed light blankets, thinking that it will be enough to save your camping days.
However, when you finally reach the destination, you notice the winter season behaves nothing like in the town hall. So, how would you think to survive in that extreme condition? That's an example to signify packing vital gear for a particular camping destination. It will help you be safe on-site and be prepared for any sudden events.
Above, we have mentioned the essential checklist for camping gear. That gives you a basic idea of the items you should be picking while going on a trip. Nevertheless, in the sections below, we have elaborated more on some camping tips for beginners
Essential Camping Gear List for Beginners
When camping, you should bring enough equipment that allows you to be comfortable. In cold weather or high altitudes, camping dictates more gear than camping in a sunny, temperate region. Regardless of the type of camping, the following items will serve you well:
Shelter Gear
No matter where you plan to go or stay, the first thing you'd be looking for is a shelter. In terms of camping, shelter is something you need to arrange on your own. After all, it is the whole point of camping. So, here we have sorted out an essential gear checklist for the campsite shelter that includes
Food Preparation
Under the food items, there must be other items included than only the dry foods. When you're going backcountry camping, it's beneficial. That's because you cannot buy food from any local store as you can do on any front country camping site. So, what kitchen or food items should you be packing? Let's get to learn that from the below listing.
Portable Camping Stove
Camping Dishware
Camping Utensils
Water Bottles
Dry Foods
Preserved Extra Food
Lighter / Match Box
Warmth and Comfort
Next, you should focus on the essential camping clothes you need for surviving cold or rainy weather. Regardless of the campsite, you are staying in; your body demands proper clothing safety based on season, temperature, and environment. Therefore, you should be concerned about packing some of these warm props that include
Warm Clothes
Rain Jackets
Rain Pants
Blanket
Umbrella
Emergency Camping Items
Last but not least, you should pack some emergency equipment in terms of surviving the unexpected. We can never predict what we will face throughout the journey and what safety gear we should take on a trip. Thus, it's mandatory to pack at least the most emergency needs, including
Battery Powered Lantern / Camping Flashlight
Compass
Maps
First Aid Kit Box
Rope
Watch
Sturdy Padded Backpack
Fire Arms
Bug Spray / Mosquito Repellent
Transportation Vehicle (If Possible)
A first-time camping checklist will ensure a pleasant experience for new campers. Whether going car camping with family or backpacking alone, camping essentials for beginners will always help. It is full of essential and recommended items for optimum comfort and enjoyment.
Frequently Asked Questions
Frequently asked questions can help visitors understand many factors regarding the topic. Hence, we have arranged this short segment that implies the answer to the most asked queries regarding camping.
The Bottom Line                                             
Camping is all about getting back to basics. In the wilderness, the rules of modern life don't apply. And that's what makes it so powerful. With no phones or internet, a camping trip can help you forget about everything weighing you down and enjoy the moment. For a successful camping trip, you must pack the essential camping gear. It's the most crucial step of making camping so easy-going for most campers.
Overall, camping is a group activity, and it's even more fun with friends or family along for the trip. If you plan your camping trips and bring appropriate equipment, the trip will go smoothly till the end.
You can also get board games or other fun stuff. It will allow you to engage in camp-time activities that everyone will love. Besides, when hanging out with other members, take turns to share your favorite memory from a previous camping trip or "buddy story."  We love comments! If you have any suggestions, questions, or thoughts, please share them in the comments section at the bottom of this page!