Cold weather camping under a 30-degree temperature rating is tricky but not impossible. It isn't something pleasurable to cherish unless you have the right gear equipped with you and know how to stay warm camping in 30-degree weather.
Therefore, this article provides you with a comprehensive solution. Our experienced campers and a few camping gear experts have shared their unique strategies and tips to help you deal with cold temperatures in tent camping. 
Based on their experiences and in-depth gear research, these strategies have proven to be the tried-and-true methods many other campers have appreciated.
And so, if you are unsure of how to stay warm camping in 30-degree weather, we suggest you go through this article and implement a few of these tactics on your next camping trip to see how they work.
How to Stay Warm Camping in 30-Degree Weather?
Cold-weather camping doesn't have to be a terrible endeavor. You can still enjoy camping in cooler weather with the appropriate supplies and planning!
Here are some tips for staying warm while camping in 30-degree temperatures.
1. Prepare Yourself First 
Before venturing out to the campsite, every camper should follow a few key measures, which include,
Deciding camping spot location.
Checking the weather forecast.
Packing camping gear based on the campsite and weather needs. 
Once they complete these steps, they are prepared to deal with any unforeseen camping situations.
For example, checking the weather forecast allows a camper to know how his campsite's weather will be during his stay. As a result, he can pack the essential gear needed for that time. 
Likewise, you will have to prepare yourself too. You must ensure that you have all the essential gear packed based on what the weather forecast tells about your campsite's weather conditions. 
2. Make Use of the Right Gear
Now that you are prepared and ready to spend a few cold days outdoors use your camping gear adequately. Here is a list of the tools you should think about keeping nearby, 
A Hot Tent With Stove Jack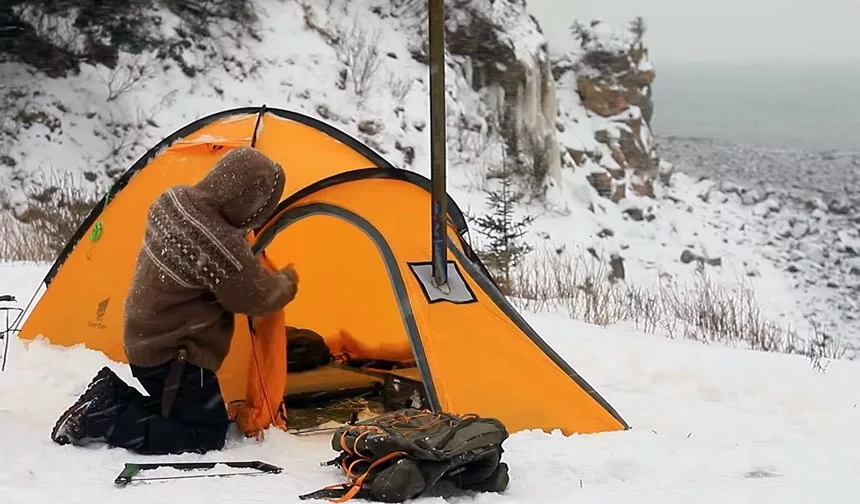 If you want a comfortable camping experience during 30-degree temperature, bring a hot tent with a stove jack. This type of tent will ensure your comfort during the cold night.
A Warm Sleeping Bag
When camping in temperatures below 30 degrees, you must bring yourself a heated sleeping bag with extra padding; otherwise, you will risk serious injury.
If possible, bring an additional high-quality sleeping pad if you need an extra layer of cushioning during chilly nights.
Also, have your sleeping bag pre-set up in the corner of your tent so you can get warmed up even while taking a small nap. 
Warm Clothing System
A warm clothing system entails dressing in layers. This implies that you will layer your clothing, one cloth on another, to keep yourself warm during the day. But how do you layer your attire while maintaining a fashionable appearance? Here's how you should do it,
Wear long jeans, sweatpants, and wind pants for your bottom half. Then, wear a long-sleeved shirt, a sweater, and a windbreaker for your top half.
Additionally, you will need a scarf and gloves. Finally, put on two pairs of socks and insulated boots to keep your feet warm.
Using this layering system, you may easily take one off if you get too warm. And if it gets freezing at night, you can always put on another outer layer. The key is not to overdo it at the beginning so you don't get your body temperature too high and uncomfortable.
Extra Blankets
If you're camping in 30-degree weather, you'll want to ensure you have extra blankets. They will keep you warm at night and can also be used during the day if the temperature drops.
Extra blankets are also suitable for young children, as they can get cold quickly. So carry a few extra blankets with you on your next camping trip!
Hot Water Bottles
One of the items that you should never forget to pack when camping in cooler weather is a hot water bottle. A hot water bottle can keep you warm and cozy if it gets chilly at night. They can also heat your sleeping bag or work as hand warmers.
For instance, if your hands start to feel cold while camping, put them in your pockets with a hot water bottle. The heat will keep your hands delightfully warm. And to heat your sleeping bag, place a hot water bottle inside the bag for a few minutes.
Furthermore, hot water bottles can be used to heat your food. If you forgot to pack a stove, you could heat canned soup or beans with a hot water bottle. Just be careful not to burn yourself.
Heaters
Another essential item you should pack if you're going camping in 30-degree weather is a heater. For keeping your tent warm during camping, it is a great purchase.
A wide variety of heaters, including propane heaters, electric heaters, and other types, are widely available on the market. So, you'll need to be sincere about this and pick the ideal heaters for your needs.
Food Supplies
The best way you can warm up is to fuel yourself correctly. Your body requires energy to function properly. Without it, you'll lose body heat faster than you generate it. So, ensure having enough food supplies for when you are hungry. 
A Seat Pad
You will not always be lying in your tent or outside of it. As a result, bring yourself an additional pad to sit comfortably. It will increase your body's insulation against the cold and prevent you from being chilly.
3. Set Your Tent Properly
When camping in cold weather, setting your tent up properly to stay warm is essential. Here are some tips for doing so:
Pick a wind-sheltered location.
Position your tent on flat ground.
Use a groundsheet to keep the cold and moisture out.
Underneath your sleeping pad, place something insulating, such as a closed-cell foam pad or an inflatable mattress.
If you have a four-season tent, ventilate it properly to avoid condensation buildup inside.
The Importance of Staying Warm Camping in 30-Degree Weather
The importance of staying warm when camping in 30-degree weather cannot be overstated. While some may think that a little cold weather is no big deal, the reality is that exposure to even this temperature can be very dangerous.
For instance, you may get hypothermia when your body temperature drops below 95 degrees Fahrenheit.
Even frostbite could take away your life if your body fails to cope with the freezing temperatures.
You must therefore take prompt action if you start to feel cold. It would be advisable to leave the campsite right away and seek medical attention. 
When to call it quits while camping in the cold?
It's probably time to pack it in if you're camping in the cold and not enjoying yourself. Admitting that you're not having fun is not something to be ashamed of.
It's preferable to give up while you still feel pretty at ease. Otherwise, waiting too long could put you at risk.
So pack up your things and head for the warmth of your home when you feel uncomfortable in winter camping.  
Conclusion
Cold nights on a camping trip must be combated with the best camping equipment.
Therefore, before heading out to the campsite, you must be well-prepared and knowledgeable about the predicted weather. It will help you prepare your camping gear pack more efficiently with the right equipment.
In addition to these fundamentals, you can use a few extra strategies to enjoy a comfortable winter camping experience, which we have already outlined in this article. 
Therefore, keep these recommendations in mind the next time you wonder how to stay warm camping in 30-degree weather.
Frequently Asked Questions