Camping is an outstanding activity that helps to gather a lot of experience and makes us closer to nature. But this is not always that easy. Sometimes, it can be tricky as well. To overcome all the problems you face when camping, you just need to know some tricks and need to follow some tipes.
So, in this article we will talk about how to make tent camping more comfortable and easy going thus your camping becomes enjoyable and easy.
15 essential tips for comfortable tent camping
Camping is not meant to be easy, and that is the most fun of camping. However, you need a comfortable place to rest and recharge yourself for the next adventure. Here are 15 essential tips for comfortable tent camping.
1. Choose the right tent
Buying a perfect and quality tent is the biggest part of the tent camping that an enthusiast can make. This is a must for outdoor adventure. However, you need to consider some specs before buying one because all your enjoyment will be the fullest when you buy a perfect tent.
Well, After combining our whole experience and experts opinion the first thing you need to notice about is, Space and Shape.
Space: Before you purchase your tent you need to go for one based on the number of persons. It can accommodate for instance one person, two people and the list goes on.
Though there is no specific industry standard to define per person tent dimension, if anyone has friends or pets with them, they should think about larger space tents.
Shape: Well, there are 2 types of  Tent, those are, cabin style tent and dome style tent in the term of shape. The cabin style tent offers more livable space with maximum height near the vertical wall for instance.
Setup: You need to choose a tent depending on its setup process based on your requirement. You might need a tent that is quick and easy to set up or you might need to go for a big tent. Remember, the larger tent has a more complicated setup and it is time consuming than the smaller one.
Fabrics: Camping tents nowadays use synthetic nylon fabric material which is measured in denier represented by 'D' number. If the 'D' number is lower, then the tent is lighter and more fragile. On the contrary, if the number is higher, then it means it is heavier and more rigid. Some tents are made of cotton which are very comfortable and breathable which is extremely good for Working day and it is also not too cold when it gets chilly outside.
Weight: The weight of a camping tent is not so critical but one should keep in mind Pad that the tents under  four pounds are more ideal for backpacking. Smaller and larger tents take more effort in terms of portability though they offer more space for living.
2. Set your tent properly
Setting the tent properly is an extremely important thing one should notice about. Tent is the ultimate place for your shelter in the wild. It will keep you safe from various weather conditions, and harmful animals. Also, here you will sleep after doing the extreme adventure. So, make sure to set your tent properly and check it again to find out the flaws and make it perfect.
3. Bring a Sleeping bag, Sleeping Cot, Sleeping Pad
A sleeping bag is a rectangular cloth bag, filled with down, feathers, wool, or synthetic fiber, that is used as a bedding item for camping, picnicking, or any other outdoor activity. A sleeping cot is a small bed, typically raised off the ground, that is used for sleeping indoors or outdoors. A sleeping pad is a thin, foam pad that is used as a bedding item for camping, picnicking, or any other outdoor activity. Sleeping bags, sleeping cots, and sleeping pads provide comfort and insulation for the body while sleeping outdoors.
4. Put a tarp under your tent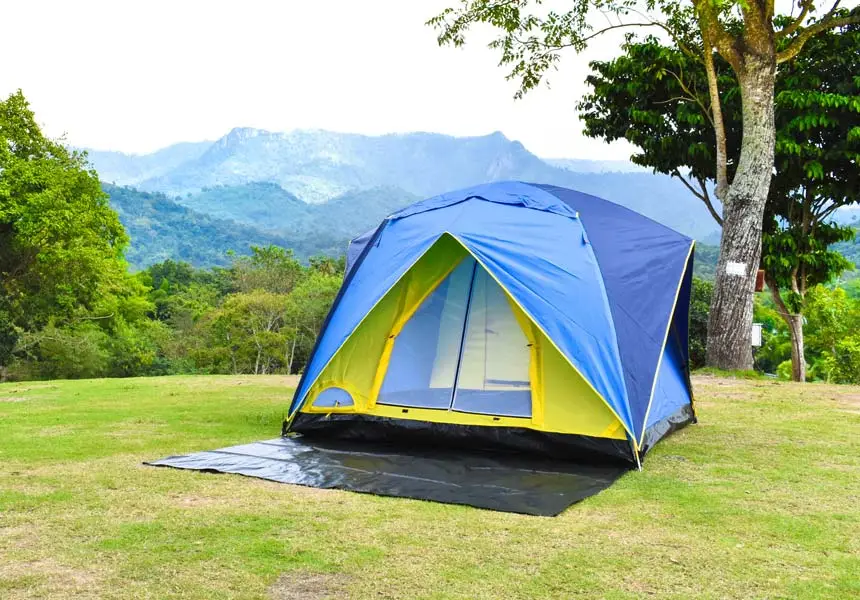 Putting a tarp under your tent added another layer of separation between you and the ground. It also helps to clean up any dirt that does make its way inside.
5. Carry a heavy duty camping chair
A heavy duty camping chair can help make tent camping much more comfortable. These chairs are typically made of durable materials, such as steel or aluminum, which can hold up to the wear and tear of being outdoors. They also often have comfortable padding and a reclining feature, which allows campers to relax in the great outdoors.
6. Bring eye mask, Ear plug
Bringing an eye mask and ear plugs can make a big difference in how well you sleep. An eye mask will help you sleep in if it's light out, and ear plugs will help you block out any noise that might keep you up.
7. Make your tent darker
By doing this, you'll be able to block out more light and create a more relaxing atmosphere. Additionally, you'll be able to avoid the hassle of having to set up a tent in direct sunlight, which can be very hot and uncomfortable.
8. Carry a battery powered camping fan
You can add a little luxury to your tent by adding a battery powered camping fan. It will keep you cool in the hot summer nights and will improve air circulation in the tent which is important. And some of these fans come with a light, which is always useful.
9. Bring a battery powered camping light
For lighting up the night during nocturnal adventure or camping a battery powered camping light is a must. But before buying one,you must know about the features well. Choose a water proof, light weight light. It will help you to carry this easily and won't be damaged if it falls into the water incase. 
10. Bring a cooler to keep your food fresh
We always carry a lot of ready to cook food with us while camping. But Most of the time we come back with food likely to be with us. And sometimes we had leftovers that we couldn't put on. 
Therefore you should carry a food cooler with you that can keep your food fresh and you do not need to cook again and again. But make sure it has a bottom drain for melting waters.
11. Pack comfortable clothes for your camping trip
What types of clothes you will wear is up to the weather condition. If you are going for summer camping you should  carry loose clothes and make sure it is comfortable to wear while going outside. On the contrary, you have to pick the proper clothes for winter to keep yourself safe from cold. And it would rain anytime, so a raincoat is a must for your camping. Apart from that, you need a proper pair of shoes that goes the best for camping and rough terrain.
12. Pack Cooking gear and food
Cooking gear for camping should include a stove, fuel, pots, pans, utensils, plates, cups, and a cooler with food. For a three-day trip, pack about a gallon of water per person, per day. Bring a mix of high-energy foods, like trail mix, granola bars, and jerky, and easy-to-prepare foods, like pasta and sauce. Pack a stove that uses a fuel canister, like a propane or butane stove. Make sure to bring a lighter or matches to light the stove. Pack pots and pans that are lightweight and easy to clean. Include a spork or fork and spoon set, and a plate and cup for each person. Don't forget a cooler to store food and drinks.
13. Carry a fire starter
Lighting fire is the most important thing in camping. Because only fire can help you to survive and it is related to your food and keeping you warmer in the cold weather. So you can carry some fire starter for making things easier and more comfortable.
14. Never leave the tent door open
Never leave the tent door open, because you don't want to make it any easier for flies, mosquitoes or any other bugs to make their way inside. 
15. Maintain tent ventilation
Just because your door is closed, does not mean your windows have to be. It should be open as much as possible. It helps to keep a nice ventilation flowing through the tent and keeps the humidity down even when it is cold inside and instinct is telling you to close all windows. At least keep them cracked because when everything is closed off, all the condensation builds up even from your own breath while sleeping and can cause you to wake up.
What is the most comfortable way to sleep in a tent?
People have different preferences for how they sleep. However, some of the most comfortable ways to sleep in a tent include using a sleeping pad, sleeping bag, and a pillow. It is also important to choose a tent that is the right size for you, and to make sure that you are familiar with the set-up and take-down procedures before you go camping.
The most comfortable way to sleep in a tent is on your side with your head facing the door. This allows you to easily see and exit the tent if necessary. It is also important to keep your feet pointed in the direction of the door to avoid feeling trapped.
What can I use instead of a sleeping pad?
If you do not have a sleeping pad with you, use closed-cell foam pad instead. This thin and lightweight pad ensures superb cushioning and insulation. Also, you can go for an air mattress.
Air mattresses are thicker than closed-cell foam pads. Indeed, that provides better insulation and cushioning. However, air mattresses are heavier than closed cell foam pads. If weight is not issue for you, go for the air mattress.
What do you do in a tent at night?
In a tent at night, you can do a variety of things. You can sleep, read, listen to music, or play games. You can also relax and enjoy the peace and quiet.
How do you stay entertained while camping?
Mostly, you are not going to stay in the tent to find entertainment. There are a lot of adventures to do while camping. Yet, you can bring games and activities to play such as frisbee, tag, and hide and seek. Also, you can bring books and magazines to read while relaxing in the tent. However, the best things to do are to explore around and take a fresh breath and enjoy nature.
Conclusion
These are the tips to make your tent camping comfortable. Comfortable does not stand for relaxing all the time in your tent. Since you are camping to enjoy the wild and take yourself closer to nature, you should enjoy your camping as much as possible. But, taking some precautions will ensure proper safety, a comfortable tent will give you proper rest for the next day adventures. Follow the above tips and keep connected with the group.
Frequently Asked Question