If you are an avid camper, you know how important it is to have good-quality camping chairs. Not only do they provide a comfortable place to sit, but they also allow you to enjoy the great outdoors. But what do you do with your camping chairs when the season is over?
They can quickly become an eyesore in your home if you don't have a proper storage solution. Even if you have a large storage shed or garage, you may not want to keep your camping chairs there all the time.
Here are some tips on how to store camping chairs so that they are out of the way but still easily accessible.
6 Ways to Store Camping Chairs
Once you've decided where to store your camping chairs, the next step is to figure out how to store them. Here are some ways to store camping chairs:
1. Hang Them on the Wall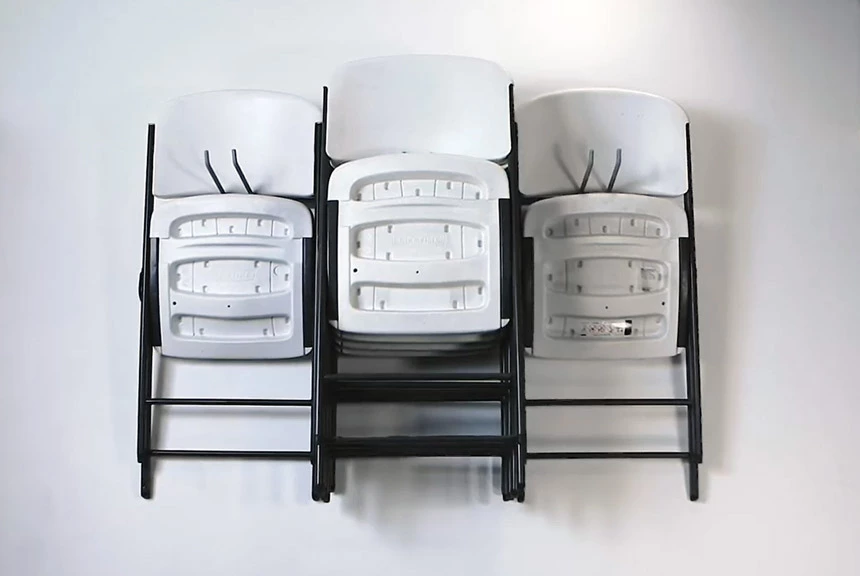 One way to store camping chairs is to hang them on the wall. It is a great option if you have limited space. All you need is a few hooks and some strong rope or twine. Tie the rope or twine around the chair legs and hook it onto the wall.
2. Stack Them in a Corner
Stacking your chairs in a corner is ideal if you own many. To keep them upright, tie the chairs together with rope or string.
3. Lay Them Flat
If you have the space, you may want to lay your chairs flat. This is a good option if you don't want to damage the chairs by hanging or stacking them. You can put them in a corner or against a wall.
4. Keep it in a Big Storage Container
Big container bins are another great way to store camping chairs. This is an excellent option if you want to keep the chairs dust-free and protected from the elements. Place the chairs in the storage container and close the lid.
5. Hang Them on a Hook in the Garage
This is one of the most efficient ways to store camping chairs. You can use a regular coat hanger or buy special garage hooks designed for hanging lawn chairs and other bulky items. If you have more than one chair, space the hooks a few inches apart so the chairs don't bang into each other and become damaged. This method is beneficial if you have a small garage because it keeps the chairs off the ground and out of the way.
6. Purchase Storage Rack
If you have a lot of camping chairs, you may want to consider purchasing a storage rack designed specifically for storing lawn chairs. These racks come in various sizes and can be placed in a shed, garage, or even inside your home. They are a great way to keep your chairs organized and out of the way.
Where to Store Camping Chairs?
Some options you may consider for storing your camping chairs include:
1. Storage Closet
If you have a storage closet in your home, this is a great place to store camping chairs. Ensure the closet is clean and dry so the chairs are not damaged. You may want to line the closet with plastic sheeting to protect the chairs further.
2. Shed or Garage
You may store your camping chairs in a shed or garage if you have one. Ensure the space is clean and dry before storing the chairs to avoid damage. To further safeguard the chairs, line the shed or garage with plastic sheeting.
3. Under the Bed
Many forget that the space under their bed can be used for storage. If you have enough room, you can store camping chairs under there. Just be sure to measure the tall chairs so they fit snugly. You could also put them in bags before shoving them underneath to keep them clean and organized.
4. Attic
An attic is another great storage option for camping chairs. However, it's crucial to ensure that the attic is well-ventilated so the chairs are not damaged by moisture.
5. Balcony or Patio
You may store your camping chairs on a balcony or patio. If you have a tarp, it can be draped over the seats to shield them from the weather. Just ensure that the space isn't exposed to too much sun or rain, so the chairs don't get damaged.
6. Car Trunk
Having enough space in the trunk of a large car, such as an SUV or van, helps transport camping chairs. This way, you don't have to disassemble the chairs to fit them in the car. You can fold them up and put them straight in the trunk.
5 Things to Keep in Mind When Storing Your Camping Chair
When storing camping chairs, there are a few things to keep in mind:
1. Store Them in a Dry Place
Dryness is vital when it comes to storing camping chairs. If the chairs get wet, they could mildew or become damaged. Only store them in dry places, such as a storage closet or shed. If you live in a humid climate, consider using a dehumidifier to keep the air dry.
2. Keep Them Out of the Sun
Chairs should also be kept out of direct sunlight while not in use. The seats can be faded and be damaged by the sun over time. A tarp or light fabric might be used to shield the items from the sun if you keep them in a sunny location.
3. Use Covers for Protection
If you want to keep your chairs pristine, consider using covers. Covers will protect the chairs from dust, dirt, and moisture. You can find covers specifically designed for camping chairs, or you can use a tarp or sheet.
Furthermore, if you plan to stash the chairs for a while, consider wrapping them in plastic. This will stop any accumulated dust and defend against bad weather conditions.
4. Label Each Chair with a Corresponding Number
Labeling each chair with its corresponding number or letter is a great way to keep track of them. This is especially helpful if you have multiple sets of chairs. Write the number or letter on a piece of tape and affix it to the chair. It will help you know which chair goes where making set-up and tear-down a breeze.
5. Invest in a Good Camping Chair
When it comes to camping chairs, quality is critical. Cheap chairs may be tempting, but they won't last as long as a good-quality chair. Furthermore, cheap chairs are more likely to break or become damaged.
 It's worth investing in a good camping chair that will last for years. Not only will you save money in the long run, but you'll also have a more comfortable camping experience.
How do you Pack Folding Chairs for Moving?
If you're planning on taking your folding chairs with you on a road trip, there are a few things to keep in mind.
First, before loading the chairs into the car, clean and dry them first. It will prevent mildew or stains from developing during the trip.
Second, consider using a storage bag designed explicitly for chairs. These bags are typically made of durable fabric and have a carrying strap for easy transport. A regular trash bag will suffice if you don't have a storage bag.
Next, take some time to measure the chairs and your car. It will ensure that the chairs fit comfortably in the car and don't take up too much space. If possible, try to pack the chairs in a bag or container to keep them from scratching or damaging your car.
Finally, make sure that the chairs are securely fastened in the car. This will prevent them from moving around or tipping over while driving. You can use a seatbelt to secure the chairs or tie them down with rope or bungee cords.
With these tips in mind, packing your chairs into the car will be a breeze!
Bottom Line
Camping chairs are a great addition to any camping trip, but they can be bulky and difficult to store. If you're not careful, they can take up a lot of space in your car, camper, or home & become damaged easily. To avoid this, follow these tips on how to store camping chairs. By doing so, you'll save space & storage woes will be a thing of the past!
FAQ's