Is Mr. Heater safe to use inside the tent? Yes, Mr. Buddy heater is safe to use inside your tent unless you purchase a damaged buddy heater. Mr. Buddy Tent Heater is now the most popular tent heater one can find on the market. Consumers claim that there are many best portable heaters, among which Mr. Heater happens to be the number one. However, there might still be some potential risks regarding tent heater usage. 
Internal tent heaters once got a bad name for Carbon Monoxide poisoning, especially the propane heater. And for electric tent heaters, the danger seemed to be nothing other than fire burn. Now the time has changed, technology has updated, and so has every type of heater mechanism. 
Mr. Heater has brought together some exclusive features built-in to the product ensuring maximum safety for their consumers. From a Carbon Monoxide Detector to an Oxygen Depletion Sensor, you can keep your tent safe at any period, even when you are deeply lost in sleep. 
Are There Any Risks of Mr. Buddy Tent Heater Deaths?
There is no potential risk of Mr. Buddy heater's death unless you get yourself a damaged product or use it without any precaution. You can avoid using the portable propane heater & get battery-powered heaters from the same company. Battery-powered heaters are best in terms of ensuring safety.
How Safe Is Mr. Buddy Heater for Camping?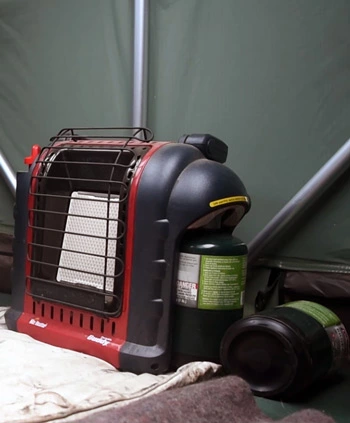 The Mr. Heater Buddy portable heater is perfect for keeping a small tent warm on a cool night. This is a safe and effective heater that provides proper ventilation. Even during setup, its compact design is less intrusive than many other space heaters.
To use your little buddy heater intent, simply plug it into a reliable power source and flip the switch to 'ON.' Then, place the heater in any safe area of your tent and relax in comfort.
The safe tent heater comes with an Oxygen Sensor to alert you in case of lower oxygen levels. Also, its accidental tip-over safety shutoff works perfectly fine, preventing unexpected occurrences. 
While the Buddy heater is one of the safest and most trusted heaters on the market, there are some precautions that you should take. If something goes wrong or there is a defect in the unit, you may experience bodily harm or even death.
What is the Difference Between Mr. Buddy's Propane Heater and Electric Heater?
Mr. Buddy's different propane tent heater models are powered by either propane or electricity. Propane tent heaters are portable, straightforward, and offer a fast heat response.
On the other hand, electrical heaters in tents provide heat instantly but come with limitations on where you can place them. Mr. Buddy offers the best of both worlds with a selection of gas and electric tent heaters.
When you're tent camping, the ability to heat your tent can mean the difference between comfort and suffering. In that case, Mr. Heater's propane heaters are an excellent choice. You could use it in your car, at home, or camping outside. Unlike the electric ones, it's safe and versatile to provide emergency heat even when you do not have access to any electricity. 
The Mr. heater buddy heaters are the most popular choice for backpackers and outdoor enthusiasts for anyone looking for a portable propane heater. It is easy to move into the woods due to its lightweight design. As a result, you can enjoy some pleasant warmth during chilly nights under the stars.
Modern electric heaters are safer and more energy-efficient than indoor propane heaters. They emit no toxic gases, so they're safe to use in your tent. Because they're typically plugged into an outlet, it's important to remember that you'll need access to electricity to use one.
Essential Safety Tips to Maintain
A safe tent heater is a critical part of a camper's lifestyle. But to prevent injury, it's essential to have the proper knowledge on how to use them safely. To help you stay safe and warm, we've developed a simple guide for using a Mr. Heater intent.
1. Be Cautious Regarding Carbon Monoxide Poisoning
While electric tent heaters are a risk, it's not the only ones. Dangerous Carbon monoxide poisoning can also be produced through a propane-powered tent heater. And this usually happens because these heaters include no special safety feature against such dangers. Another leading cause could be when there aren't enough ventilation holes in your tent, or you don't maintain the safety guidelines.
However, with Mr. Buddy Heaters, these dangers should be the least of your concerns because of its in-built carbon monoxide detector. They are a safe and efficient heating solution with the best high-quality safety mechanisms. Its clean burn system doesn't use excess oxygen and causes less CO2 emissions. That makes it safer to operate and more comfortable for customers – leading to higher indoor air quality.
However, always use a backup carbon monoxide alarm when using Mr. buddy's propane heater in your tent. Even if you have a battery-powered CO detector, bringing a backup is better in cold weather camping. It will keep both you and the gas heater safe. 
2. Proper Ventilation
Proper ventilation is essential to allow air to flow into your tent and circulate throughout it. This will reduce the growth of carbon dioxide. A straightforward way to achieve this is to crack the door for the bottom vent and partially unzip a window on the top of your camping tent.
The top vent on your camping tent does much more than keep air moving. While it does move air, it also prevents moisture and condensation during cold weather. It also acts as a viewing portal to see the stars when gazing at the night sky.
3. Inspect Burner Before Use
Before igniting a Mr. Heater propane heater, inspect the burners to ensure they are clean and clear of flammable materials. Spilled fuel or nearby combustibles can be dangerous, so staying safe is essential!
Keep your Mr. Heater clean after every use to ensure efficiency. We suggest wiping the heating element with a soft cloth, adding water to a spray bottle, and cleaning the exterior. If you run your heater on wooden surfaces, you'll want to check for organic debris, such as sticks and leaves, that can get caught in the grate when transporting.
4. Place Your Heater Correctly
The Buddy Heater is equipped with an accidental shut-off tip-over switch that shuts off the heater immediately after it's faces a sudden fallover. But that doesn't mean you can place it anywhere, regardless of the nearby flammable objects.
A flat, level surface is essential to the safe and proper functioning of your Mr. Heater Buddy. Make sure to place it on a metal cookie sheet rather than directly on your stove or on a wooden surface.
5. Keep Away Flammable Objects
Clearly label your heater as a 'portable heater' and, when possible, keep it away from flammable objects. Not all buddy heaters are the same. So, take a moment to check the specifications and make sure you're following their guidelines.
Based on the size of your tent, ensure to leave at least two feet of space around the tent heater. The heater also produces a heat source through conduction from its bottom plate. So make sure you place it on a flat and stable surface.
6. Use the Right Sized Heater
Mr. Heater's Buddy Series is the perfect line of propane heaters for camping. They have a variety of sizes. You need to choose the right fit for yourself. And, whether on a camping vacation or at a cottage, you may use this camping gear in just about any place.
Frequently Asked Questions
Frequently asked questions focus on the most highlighted queries the consumers want to know about. In this segment, we have just done the same. We hope it solves many of your issues regarding the use of Mr. Heaters. 
Closing Thoughts
Internal tent heaters once got a bad name for Carbon Monoxide poisoning, especially the propane heater. And for electric tent heaters, the danger seemed to be nothing other than fire burn. Now the time has changed, technology has updated, and so has every type of heater mechanism. 
Mr. Buddy heaters are an excellent choice for camping and camping-related activities. With suitable precautions — such as proper placement, ventilation, and fire safety rules — they can keep you warm while you're out in the wilderness.