Many campers prefer their package to be light for experiencing the best of their journey. They pack only the essential camping gear and never bother taking extras. However, particular campsites require otherwise packaging. Do I need a tarp under my tent, if any of you ask? Or Is a ground tarp essential? I wouldn't bother giving an exact answer because it depends on several facets.
Ground tarps or Tent footprints carry the purpose of protecting your tent floor. You need a tarp to use underneath the tent, you will have an extra layer of protection added to your tent from damage. But carrying a tent footprint seems to be a hassle sometimes.
Therefore, we have tried to elaborate on the boon and bane of ground tarps through this write-up. Once you grasp the key reasons, you will clearly understand whether you should be going with a tent tarp on your next camping adventure.
Why Do I Need to Put a Tarp Under My Tent?
As mentioned earlier, a tent tarp's purpose is to provide an added layer of tent protection. But that doesn't necessarily indicate it is a crucial need for every tent. You can carry it for inclement weather camping or forego it in dry places. It all depends on you.
Before jumping to conclusions regarding whether or not you need a tarp under your tent, let's learn about its boon and bane.
Advantages of a Camping Tent Tarp
It serves as a moisture barrier between your tent floor and the tent ground cloth. When the atmosphere gets cold at night, humidity accumulates on the ground. And to keep your tent dry inside, an extra tarp under tents works best. These tarps also go with the purpose of a layer of insulation. During winter camping, you will love how warm and cozy it keeps your tent environment.
A camping tarp also protects your tent from heavy rain penetration. No one wants to go camping in inclement weather. Howbeit, there are always times for sudden happenings, and you got to save yourself from them. So, when you lay a tarpaulin under the tent, especially a waterproof tarp, it will ensure the tent fabric isn't soaking any water droplets.
Also, putting a tarp under the tent is an excellent idea to secure your tent from abrasions. It keeps your tent safe from debris, mold, or other abrasive nature elements.
Disadvantages of a Camping Tent Tarp
You don't need a tent footprint always. Lightweight hikers know that every extra gram counts and the weight of a tent material often isn't worth it. Save the weight and bring a small repair kit.
While camping on flat grounds with no abrasive materials, you can skip using a tarp for the tent. However, if you are driving to the campsite, you can carry a simple tent footprint as there is no hassle of taking extra weights on your back.
There is no need for tent tarps in nice weather or any sand region. After all, such a tarp is not any essential gear; rather, it serves as an emergency shelter for inclement weather conditions.
What Tarp Size Do I Need under My Tent?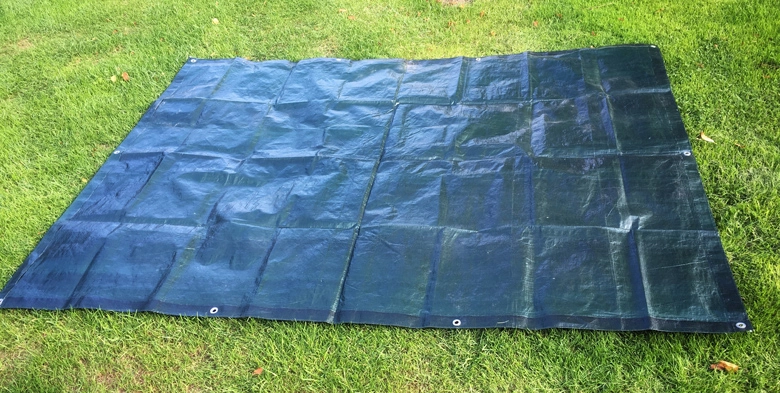 I recommend selecting the tarp size based on your personal preference. However, there is a basic guideline to maintain while buying the best tent tarp. And in this segment, we will try to break the fundamental secrets of tarp size that everyone must know.
In the context of which tarp size to choose, you must first figure out the size of your tent. The bigger your tent size is, the larger size tarp you need to buy.
Don't buy a tarp bigger than your tent size. That way, you will have the tarp sticking out from the tent edges, making dews or water droplets gliding between the tent and the tarp in rainy weather. As a result, it defeats the primary purpose of your tent tarp.
The minimum recommended footprint size is 10 x 10 ft. or 4 x 4 meters. This is so that the tarp can cover the sides of the tent. Always measure your tent size and match the dimensions of your tarp for the best results.
Inflating your tent or traveling with a deflated tent on camping trips is not a problem. All that matters is if you are choosing the right-sized tarp. Many tents include a footprint composed of the same material as the tent. They even have a rainfly for even better protection. So, you can buy one of those tents without needing any additional tent tarp.
How to Put a Tarp under a Tent?
You may know everything there is to know about tent tarps, but do you know how to use one properly? Even though you are aware of every benefit and disadvantage of a ground tarp, it won't be useful if you don't know how to put a tarp under a tent. So, without further ado, let's learn to set up a tarp in 3 easy steps!
Step 1: Clear the campsite. Clear the area of any debris such as rocks, sticks, or grasses where you wish to place your camps. Also, make sure you keep your tent clean from the inside. 
Step 2: Spread out your tent tarp or footprint on the ground. Place the tarp on a level floor with good drainage.
Step 3: Place your tent atop the tarp. Connect the tarp by merging its thread with the tent poles. Cover the tarp fully and ensure no loose ends of the tarp are sticking out. After finishing, double-check on the footprint setup.
Make sure the tarp you use isn't too thick or thin. When you buy a too thick footprint for extra protection, it becomes heavier to carry. In contrast, if you buy a too thin tarp, it can get damaged easily during your journey. Essentially, it is to ensure you face no trouble with your tarp, ruining your entire enjoyment of the trip.
Frequently Asked Questions
We have arranged a simple Q/A session to share some of the most common confusions of other people regarding their tarps camping. 
Key Takeaway
A groundsheet is one of the essential items of camping gear you can pack. When you're out camping and hiking, the lack of a solid, flat surface is not just inconvenient — it's dangerous. The tarp or groundsheet adds a solid base to pitch your tent and improves storage space around the campsite. Weight and bulk are considerations, but you really can't put a price on a good night's sleep in the great outdoors. A tent footprint is a vital add-on that helps keep your tent in tip-top shape for years to come by protecting the bottom from wear and tear.