Tents are bound to get hotter inside when the sun is at its peak. You require sufficient airflow inside, especially with an electrical conditioning system, to cool down your tent's atmosphere. But what if there is not enough suppliance of electricity? Then how to cool a tent without electricity?
Cooling a tent without electricity might seem deceptive, but it is not. With the right gear and DIY cooling techniques, keeping a tent cool without electricity has become much more manageable. It's not too bothersome nor requires excessive effort. If you know the smart ways around it, making your tent smarter mustn't be too hard. 
To stay cool in your tent on a hot summer day, you can take advantage of plenty of tips and tricks. We've enlisted the easy ways into this blog post, from simple to more advanced solutions. These tricks were discovered by travelers who used them to sleep in areas with harsh climates and without electricity. 
1. Pitch Your Tent under Nearby Trees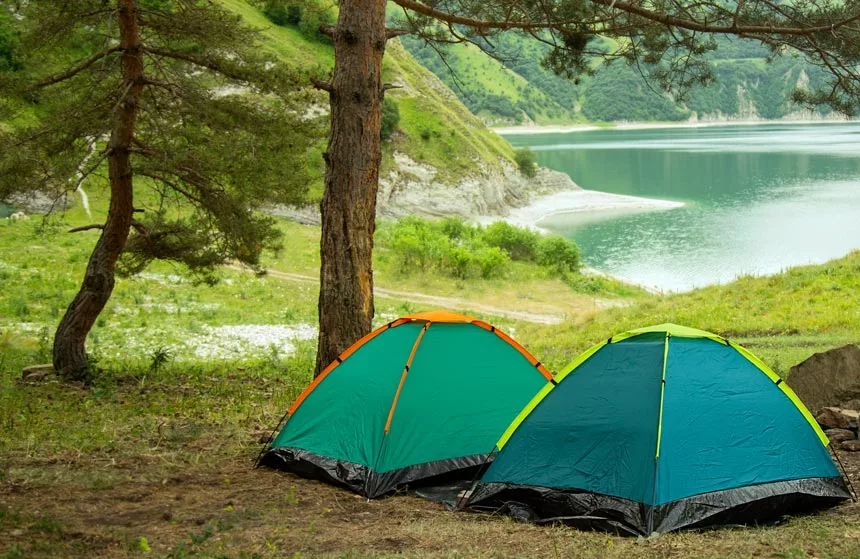 What's better than setting up your tent in the shade of trees? After all, their shade is way cooler than any other kind of shade. Trees can reduce the air temperature surrounding your tent by as much as six degrees — and even more if you have a canopy.
That's why whenever you can set up your tent under the shade of a tree, do that. Whether it's scorching hot in your region, there's nothing more comfortable than a tree that can keep you cool while providing shade.
2. Elevating the Tent off the Ground
When your tent isn't cool enough for sleeping, it's time to get creative. Elevating the tent off the ground is a great way to keep insects out and improve airflow. It is considered one of the most effective ways to keep your tent cool without electricity.
Use a ground cloth or add extra tarps beneath your tent. It is another way to keep the air flowing through your tent — which will help you stay cool in the summer.
3. Get a Portable Tent Cooler
Portable tent coolers are indeed a lifesaver in hot conditions. It is a device that carries water in its reservoir to keep it cool. When placed inside an enclosed tent, this device can create a cooling effect that lasts a few hours, which is ideal for camping.
They don't require electricity to run and can be charged with a car battery or solar panel for hours of freezing. You can even use a portable cooler as an air conditioner. The best part? They have minimal risk of accidents/injuries.
4. Use a Tent Rainfly
Getting an adjustable rainfly, or tarp, for your tent is a great way to deal with changing weather conditions. If you cannot pitch your tent under the shade of trees, move the rainfly over it and set it up there. The rain fly needs to be lightweight, or your tent will become too heavy for you to carry. This can also lead to problems with ventilation inside your tent.
5. Use Tent Blankets
You should use additional blankets or set your tent on it when the ground is too hot to bear. It will ensure the scorching heat of the ground doesn't reach your tent floor. Consider placing a thick blanket underneath your tent as a solid base for setting up.
Attach the blanket to the inside of your tent by taping Velcro strips and sticking them onto the tent's mesh. The Velcro will hold the blanket in place and prevent it from blowing away in the wind. 
This technique will save your day if your feet are burnt away by the scorching heat. This will also prevent damage to your tent and ensure it won't sink into the ground. 
6. Set Your Tent Near Riverside
Many people know the benefits of camping near a river. It's been proven to be one of the best places to relax and unwind. 
It is proven that blue spaces can have a calming and relaxing effect on our minds and bodies. Reducing stress, increasing focus, and better air quality add to your mind's refreshment and keeps the atmosphere cool. 
So, when you pitch your tent near a riverside, it helps keep your tent's atmosphere cool. If you have the option, go for an open tent with a door facing the river. This will allow cool air to enter the tent as it touches the water, and it'll also be extra romantic.
7. Dig a Tent Pit
If your tent is overheating, it's time to cool down and reduce condensation. One of the easiest ways to do this is by digging a 2-3 feet trench around your tent. This can be especially helpful if you're camping on soft sand.
Now set up your tent in this trench for the night. You will sleep comfortably on the insulated floor and keep your legs on the ground by placing them on the trench slope.
Find a trench in the jungle to save yourself from thermal radiation and heat effects. The ground is sometimes wet and cool in those places, which makes it a natural air conditioner.
8. Avoid Purchasing Any Tent Just Because You Like the Appearance
Browsing a store for a summer camping tent only to choose one based on how it looks is a bad decision. You must research which features have the best functionality and design. To pick the perfect tent for your summer getaway, there are a few factors you need to keep in mind:
Camping materials and supplies can be separated into three main categories of materials: nylon, polyester, and canvas. When choosing the right tent, it is important to match these materials with your level of camping experience. Camping in hot weather? Then a nylon or polyester tent will work best for you!
You should avoid black or dark-colored tents to fight off excessive heat inside your tent. Dark colors absorb heat too much, whereas light color options reflect heat. We suggest only staying in the light color options when camping on hot summer days.
It's essential to have a tent-shaped conveniently to provide good ventilation. When you have an airy tent, you will be better positioned to enjoy your hot weather camping because the atmosphere inside the tent will stay cool. With sufficient air circulation inside the tent, you will prevent going through uncomfortable moments and stay safe from getting suffocated.
It's Pointless to Cool Your Tent If You Don't Keep Yourself in Good Shape
Focusing only on how to cool a tent without electricity isn't going to get you anywhere if you are careless about maintaining yourself. If you don't stay in good shape, you will not get any results, no matter how hard you try to keep your tent cool. 
Therefore, here are some helpful tips that you can maintain to keep yourself cool first!
When camping in the summer, it's best to wear clothes that air can circulate freely through. The puffy, loose tops are perfect for hot days spent climbing mountains or walking through crowds. They also cool down quickly when wet — which is great.
Avoid wearing black in summer. Although this color is traditional, it's the worst color for hot weather. The clothes you should wear in summer should be of light-colored fabrics.
Wear loose clothes that are light and comfortable enough to sleep in. Don't wear these clothes during the day; ensure to allocate a sufficient number of night-time outfits.
There are various brands of caps and head traps available. So, it's important to choose the best kind for your needs. Look for a cap that is lightweight and easy to wear.
A cap can protect your face and head from the sun's heat. It also ensures that you don't get those unsightly face spots and protects your eyes from the sun's rays, ensuring that you can ease up and take in your surroundings with ease.
Hydration is key to keeping your internal temperature low. If you're dehydrated, your tissues can begin to shrivel and malfunction. Replacing the water, you lose through sweating is vital for surviving hot climates. Not too much, but drink enough water so that you're able to deal with the heat.
Key Takeaway
It will be a huge hit if you can design a well-ventilated tent that can fight off the warm weather condition without using any electric cooling system.
Therefore, knowing how to cool a tent without electricity is essential. A few methods can be used to beat the heat, including positioning the tent in a shady area or adding a tarp for extra shade and air circulation. This article has shared the best way to cool a tent; we hope that finds your needs right. 
N.B: Another crucial point to mention is to make sure that you're sheltered under a treed area and that the tree must have a vibrant color. This will create a natural barrier between you and the summer heat. It also releases excessive body heat from a stuffy tent with proper ventilation.
Frequently Asked Questions