Wearing makeup is more important than breathing for many camping beauties. Why not? It gives them a confidence boost and Instagram ready. Besides, it gives them a vibe about how to look good on a camping trip.
Camping is a great way to get outdoors and enjoy the day. However, it can be hard to put on makeup if you're in the woods all day. You can't just spend hours in front of the mirror at the campsite. Besides, choosing the right beauty products can be tricky as well.
Why fear when you're here? In this article, I'll discuss how to wear makeup while camping step by step in a very easy way. Besides, I'll talk about the beauty essentials and give some bonus tips. So, let's get started.
Camping Beauty Essentials
These are the essential items that you've to carry in your backpack. Remember, the makeup won't be too heavy. So, the camping makeup list won't be too long. The beauty essentials are:
Cleanser
Moisturizer
Sunscreen with at least SPF30
Tinted lip balm with at least SPF30
BB or CC cream
Concealer / Color corrector
Regular eye pencil
Mascara
Face tint / Blush
Beauty Blender
Loose Powder
Lipstick / Lip Tint (If tinted lip balm is not available)
The Makeup Journey (Step By Step)
So now that we know the makeup items we should bring, let's do the makeup now.
There are three steps of makeup, which are-
Preparing the skin
Wearing the makeup
Removing the makeup
I'll tell you the whole makeup process step by step to easily get the best makeup look.
Step 1: Prepare The Skin With Basic Skincare
Basic skincare is the prerequisite for good makeup. By this, you prepare your skin for further makeup. You have to follow the basic skincare like a ritual.
Not only for makeup, but it's also necessary for your skin's overall health. If you don't follow basic skin care, you may get several skin problems such as acne, pigmentation, aging, rashes, sunburn, etc.
Let's know about how you can prepare the skin:
Wash The Face
Use the cleanser you've got in your essentials and wash your face. Massage the cleanser for 30 seconds on your face and rinse it with water.
The cleanser helps to remove the dirt and impurities from your face. Not only that, the cleanser will remove the unnecessary build-up from your skin. So, the makeup will perfectly blend with your skin.
Use Moisturizer According To The Skin Type
Moisturizing the skin is the second step of preparing the skin for wearing makeup. After the cleansing, your face may feel a bit dry. Moisturizer helps to soften it and add layers to your skin barrier.
There are four types of skin: dry, normal, oily, and combination. There are many moisturizers available in the market as per the skin type.
However, you can use moisturizers for all skin types if you cannot determine the skin type.
Have Sun Protection
Sun protection is the most significant part of basic skincare. As I've mentioned before, you are at a high risk of having many serious skin conditions if you don't take sun protection.
Not only the skin but lips also need protection from the sun. Otherwise, you may have a pigmented lip as a result. You can use any lip balm with SPF 30 or more for lips.
The sun protection scale is called SPF. You have to get the protection of at least SPF 30 for proper sun protection. There are many types of sunscreen/sunblock available. They can be water-resistant as well. You can choose from them according to your skin type and needs. And I recommend you choose the ones with water resistance while camping.
Step 2: Wearing The Makeup
This is the main part of wearing makeup. Let me tell you how you can get a flawless makeup look while camping:
Apply BB / CC Cream
BB cream or CC creams are perfect for light makeup. It gives a natural glowy makeup look without giving the skin any heavy feeling. For camping makeup, I find BB creams the best choice.
You can use any bb or cc cream according to your skin shade. Apply this by doing small dots on the skin. Then blend it with a damp beauty blender or makeup brush.
Use Concealer or Color Corrector
Concealer hides any uneven skin area such as dark circles, acne scars, and pigmentation, which sometimes bb creams fail to cover. Color correctors also do the same job. You can use whatever is available to you.
It gives you a flawless look for Insta-ready shots.
Choose the concealer according to your skin shade and apply it to the targeted area. Then blend it with the beauty blender and apply some loose powder with a makeup brush.
Apply The Cheek Tint For Blushy Face
Who doesn't want pinkish blushy cheeks? It's one of the most attractive features of camping beauties. A pink or peachy blush or face tint can do this for you.
After the bb cream, apply the pinkish tint on the cheeks. You can apply it with your hands if a makeup brush is unavailable.
Eye Pencil For Attractive Eyes
Beautiful eyes are an attractive feature of women. No matter your eye shape, an eye pencil can do it much better.
You can use the eye pencil inside your eyes or apply it as an eyeliner. Bold eyes will take your beauty to an extraordinary level. You can even use this eye pencil on your eyebrows as a brow filler.
Mascara For Longer Lashes
Longer lashes make your eye look more seductive and elegant. Whether you want to have a natural look or a gorgeous look, mascara can enhance eye beauty.
Choose the mascara as per the volume you want. Waterproof mascaras will be perfect if you tend to have watery eyes. You can apply double coated if the volume doesn't seem enough.
Lipstick or Lip Tint For Pout-Ready Lips
Lipstick is called the "Game changer of makeup." It can add quality to your makeup, no matter what your look is.
If you want a more natural look, you can apply pink lipstick or lip tints to your lips. You can apply this as per your costume color also.
You can use matte lipsticks if you want a durable option. Otherwise, you can also use the glossy, semi-matte, and sheer ones. There are also waterproof lipsticks available in the market, which you can use if you need them.
Step 3: Removing The Makeup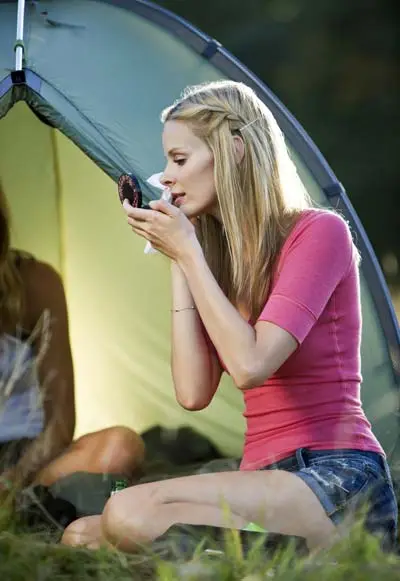 Many people skip this step, but it's an essential step. If you don't remove the makeup properly, the pores will be clogged, causing acne. That's why you have to do double-cleansing.
In traditional double cleansing, you've to wash your face twice. The first cleanser can be a cleansing balm, cleansing lotion, micellar water, cleansing oil, cleansing milk, or a normal cleanser. The second cleanser will be your regular face wash.
However, I suggest using the normal cleanser twice. Only this can do the job. First, apply the cleanser to your wet face and massage it for 2 minutes. Wash with water. Then again, apply the cleanser and massage for 30-60 seconds. After that, wipe your face and follow up with your regular moisturizer.
Some Bonus Tips
So, here are some bonus tips that will help you wear makeup while camping and get an amazing makeup experience.
Use waterproof beauty products
Please use allergy-friendly products if you have this problem
Consult a dermatologist before wearing the makeup if your skin condition is not good
See the expiry date before using the products
Immediately rinse the makeup with water if any irritation occurs
You can use your toner or serum before the makeup
Apply some ice water or ice pack on the face before starting (If possible)
Remove the facial hair for better results
Try to use products from reliable brands
Use the skin products as per your skin type
That's all for today. I hope you have no doubts about how to wear makeup while camping. Now nail the camp and be the best camping beauty ever.
Don't forget to let us know how you've found it. Also, please share it with your beauty-freak friends who want to go camping but are unsure about the makeup problem. Have a safe camping.