If you have spent a thunderstorm night under the roof of a tent, you know how difficult the situation may get if the tent can't provide you protection in such conditions.
Over time, many tents get devoid of their waterproofing coat; The waterproof texture layered onto the tent surface fades away due to harsh natural elements. But you see, there are always ways to restore them. You only need to know how to waterproof a tent using the best tent waterproof spray. 
Therefore, this article reveals the best tips to waterproof your tent properly. And not only that, but we have also brought together a list of the best tent waterproof spray. 
So, finding the waterproofing spray that suits your tent the most won't be difficult anymore.
5 Tips for Properly Waterproofing Your Tent
Let's get right to the point without getting you here and there. What would you choose if I told you to waterproof your tent with different solutions?
Most people vote for using the best tent waterproof spray; some even suggest using a rainfly, and others talk about buying a new one. But well, aside from these solutions, you may try out the following ones as well,
1. Keep Your Tent Well-Ventilated to Avoid Condensation Build-Up
Making sure your camping tent is vented correctly is among the most crucial things you can do to keep it waterproof. If there's insufficient air circulation inside the tent, it will build up condensation, which can make the fabric wet. This can lead to leaks and eventually ruin your tent.
Please ensure plenty of vents in your tent and open them up when using them. If you're expecting bad weather, close the vents to keep the rain out. But in general, good airflow is key to keeping your tent dry.
2. Use an Additional Tarp or Rainfly to Cover Your Tent
If you're caught in a storm while camping, you want to ensure your tent is as waterproof as possible. One way to do this is to use an additional tarp or rainfly to cover your tent. This will prevent water infiltration and prevent your tent from getting wet.
You can use a garbage bag or poncho if you don't have a tarp or rainfly. Just secure it well so it doesn't blow away in the wind.
Remember that even if you have a tarp or rainfly over your tent, you may still get some water inside if the wind blows the rain sideways. Therefore, it's wise to bring some additional clothing and blankets just in case.
3. Check out for Damaged Seams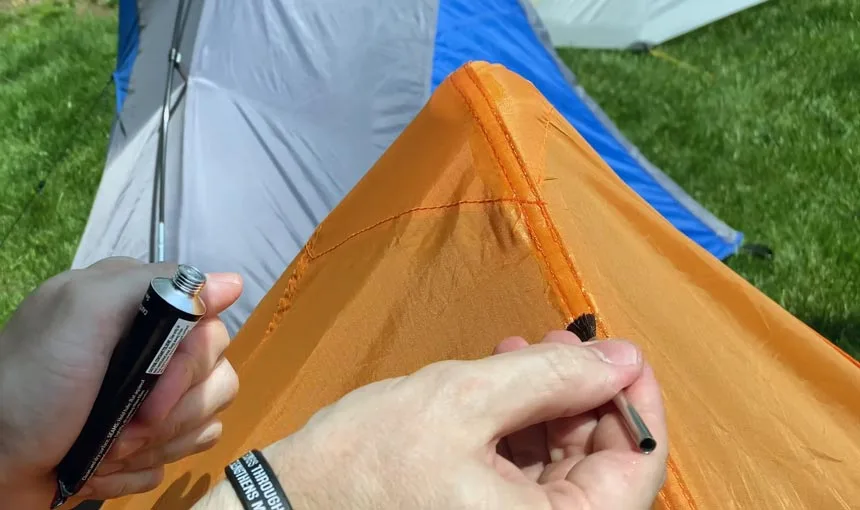 If your tent seams are damaged, fixing them as soon as possible is essential. Otherwise, you risk letting water in and ruining your camping trip. Here's a quick guide on waterproofing a tent by checking for damaged seams.
First, inspect the seams of your tent. Look for any holes, tears, or gaps. If you discover any damage, it is time to repair it.
You can use various materials to patch the seams, including a special seam sealer, tape, or even regular old duct tape.
Once you've patched the holes, it should be good enough to fight off outside water seeping through it.
You may also use some powerful adhesive protector or sew it to tighten the seams. If your tent construction supports adhesive usage, don't hesitate to go for it.
4. Keep Your Tent Protected from Sun Damage
Ultraviolet (UV) rays can cause your tent's fabric to break down over time, making it less waterproof and more vulnerable to tears. So, taking simple precautions is essential to keep your tent in good condition.
One way to do this is to use a tent fly, a piece of fabric that goes over the top of your tent and provides extra protection from the sun. You can also buy special UV-resistant treatments for your tent fabric, which will help extend its life.
Another smart move is to keep your tent in a dry and cold place when not in use. This will help prevent the fabric from deteriorating.
5. Take Proper Care of Your Tent
If you're planning on spending any time outdoors this rainy season, an excellent waterproof tent is a must-have. But even the best tent won't do its job if you don't take care of it properly.
That's why it's crucial to regularly check your tent for signs of wear and tear and re-waterproof it as needed. You should also adhere to the user manual to see the waterproofing level of your tent.
That means checking your tent's water resistance level for inclement weather camping. It will help you decide whether the tent will be a good fit for your upcoming camping trip or not.
Importance of Waterproofing a Tent
If you want to extend the life of your tent and keep it in good condition, it's crucial to make it waterproof. A good waterproofing spray will help to protect your tent from water damage and keep it looking good for years to come.
Tent waterproofing spray is easy to apply, and various products on the market can suit your needs.
Consider purchasing a product that can survive the elements and is sturdy. You may protect your investment by spraying a waterproofing agent on your tent.
How to Waterproof a Tent Using Waterproofing Spray
Getting the right waterproofing spray for your tent doesn't end your job. You must know how to waterproof a tent using the waterproofing spray. Therefore, here's a simple guideline,
To use waterproofing spray, start by giving your tent a good cleaning. Remove any dirt, debris, or stains that are on the fabric.
Next, apply the spray to the outside of the tent fabric. However, be sure to follow the instructions on the bottle before using it.
Cover all the seams and pay special attention to areas prone to leakings, such as the corners and edges.
After that, wait for the spray to dry thoroughly before using your tent again.
Reapply the spray every few months to maintain the water-resistant barrier.
How to Choose the Right Tent Waterproof Spray
A good tent waterproof spray can protect your tent and help you stay dry while camping. Here are some tips on choosing and using a waterproofing spray for your tent.
Read the labels carefully. While other products can be used on any fabric, some are made specifically for materials like nylon or polyester.
Ask a salesperson if you're unsure which product to use. Once you've selected a waterproofing spray, follow the instructions on the label.
In most cases, you'll need to apply the spray to a clean, dry tent. Apply the spray evenly, using a back-and-forth motion, until the entire surface is covered.
Allow the spray to dry completely before using your tent. This usually takes about 24 hours. Once the spray is dry, your tent will be water-repellent and ready for use.
Best 7 Tent Waterproofing Spray Review
Learning how to use a waterproof tent spray or how it works isn't enough. Within this enormous market stock, you must take out the best product. 
So, in this article, we'll analyze the top seven tent waterproofing sprays to help you pick the best-suited one for you.
Let's get started,
KIWI's Camp Dry Heavy Duty Water Protect enhances fabrics with an innovative water-repellent durable coating that outlasts other coatings. It is odorless, breathable, soaks right into the material, and provides a continuous water-repellent layer.
This tent waterproof spray won't get washed off or crack when it gets wet. From cotton to polyester and nylon, you may use this tent spray on any material you need.
Also, not only on the tents; you may also use this spray to protect your camping gear, boots, and patio furniture. This water-repellent spray treatment protects articles against rain and snow.
The KIWI dry heavy-duty water-repellent spray encapsulates the treated article in a silicone layer that bonds to leather/fabric. As a result, a light waterproofing effect is achieved.
Looking for an environmentally friendly waterproofing spray? Look no further than Nikwax Tent Waterproofing. This water-based, biodegradable spray is perfect for those who want to protect their tents from the elements without harming the environment.
Nikwax Tent and Gear Solar Wash restores water repellency, adds UV protection, and doubles the life of fabrics. The new and improved formula is non-toxic and non-flammable.
It is also ideal for water-repellent cleaning tents, rucksacks, sleeping bags, and clothes. It has been specially formulated to rinse clean from synthetic fabrics, leaving no sticky residue.
So if you want a premium waterproofing spray within an affordable budget, this Nikwax tent would be the perfect fit. 
The fantastic Atsko Silicone water-guard tent spray is ideal for providing complete water protection for your tent. It builds up a thick layer on your tent to keep water from soaking it up, which might make it considerably heavier to transport.
In addition to preserving tents, this product is also excellent for covering outdoor furniture, canopies, awnings, umbrellas, and brick and stone structures.
The Atsko Silicone water guard is naturally made for heavy-duty use. With only a single application, you can ensure maximum repellency to your tent.
Besides, it provides your tent material with enough flexibility for ventilation. Thus, even if you spend a lot of time inside your tent, you won't need to worry about feeling cramped.
In general, using this waterproofing spray is simple. Applying it to your tent will take only 72 hours or three days to dry completely. Additionally, the coating is guaranteed to offer your tent or any other outdoor gear heavy-duty waterproofing protection, so you won't have to worry about it fading away soon.
Do you wish to protect your camping tent from harsh natural elements? Then Scotchgard Outdoor Water Shield Tent Spray is your answer.
This easy-to-use spray creates a durable barrier against water, dirt, and other outdoor hazards, while still allowing the fabric to breathe. It's safe to use on various materials, including polyester, nylon, polypropylene, cotton, leather, and suede.
Plus, it's available in a convenient size, much like an aerosol bottle, making it perfect for taking on the go. One bottle can give 20 square feet of water resistance on light nylon or 60 square feet on lightweight nylon.
Therefore, don't let the elements damper your next outdoor adventure. Reapply Scotchgard Water Shield seasonally to keep your gear in top condition.
Whether setting up camp for the first time or restoring an old tent, GEAR AID's Seam Grip TF Tent Fabric Sealer will help you keep things watertight. This four-fl oz bottle of tent waterproofing and seam sealer can cover up to 85 sq. ft. of nylon fabric, making it ideal for treating tent floors, rain flies, and tarps.
Seam Grip TF is easy to apply and dries quickly. This water-based formula forms a durable barrier against water, a nearly invisible coating that flexes with nylon, keeping you dry even in the heaviest downpours.
Plus, it doesn't require heat for activation and comes in a compact size that's perfect for packing on your next camping trip.
This top-of-the-line spray waterproofs your tent and provides UV and stain protection, significantly extending your tent's life.
STAR BRITE Waterproofing Spray is great for use on new fabrics. It will further barrier against moisture and sun protection against harmful UV rays. It is a highly breathable, water-repellent finish to protect against stains.
Thus, protect your fabrics from water, stains, and spills with this 22 oz. Waterproof spray. The repellent uses an active ingredient, 5-aminobenzoic acid, that bonds with fabric fibers.
Formulated with Hydrolock Technology, STAR BRITE contains powerful, time-released ingredients that work below the surface to prevent moisture from seeping into your property.
So don't wait any longer; get yourself a bottle of STAR BRITE Waterproofing Spray today!
Made with 100% silicone, this waterproof has an innovative formula that bonds to fabric very well. It creates a waterproof barrier that permanently bonds to footwear.
Sof Sole's Unisex-Adult Silicone Waterproofer for Tents is specially formulated for campers and hikers. This 100% waterproof, one-component silicone formula creates a durable, long-lasting waterproof bond that repels water, dirt, and oil.
The formula of this waterproofing spray creates a flexible yet strong bond, which keeps your tent from shrinking as you use it. The application procedure for this tent waterproofing spray is relatively easy. 
To apply, simply turn the can upside down and spray a light mist onto the material you wish to waterproof. Then enjoy your freshly waterproofed gear after allowing it to dry overnight.
Overall, when you encounter rain, snow, or mud, wipe the waterproofer with a damp towel or sponge, and your tent is ready for use. See, that's how easy it is to make your tent waterproof with this amazing product.
In Summary
If you can't stay dry in the rain, you can't have a comfortable night under the stars. That's why learning how to waterproof a tent using the best tent waterproof spray is crucial for every camper.
So, this article has covered all the tips and suggestions, including the best waterproof tent spray product listing to help you select the perfect waterproofing spray for your need.
A properly waterproofed tent can save you hundreds of dollars per year. If you don't want to spend much money on a new tent, read the tips mentioned above and find out how you can easily waterproof your current tent for just pennies per year.
Frequently Asked Question