Winter camping can be a lot of fun, but it can also be a nightmare if not done in the right temps. Camping under too cold temperatures certainly gives off the actual vibe and may lead to deadly outcomes. So, it's crucial to know how cold is too cold for camping. 
Experts say temperatures under 30 degrees Fahrenheit are risky for campers. The chance of frostbite increases at this point and may cause uneasiness.
Other than that, the nighttime temperatures also drop considerably lower than daytime temperatures, making the atmosphere extremely frigid. Therefore, you must be aware of your tolerance limit and prepare yourself the right way.
In this article, we will go over the difficulties of a winter camping trip, particularly for beginners, as well as share some tips and key measures about cold weather camping hacks. 
Let's get started! 
Camping in the Cold: Things You Might Not Know Yet
A cold-weather camping trip doesn't come without cost. It requires you to be extra careful and sincere about yourself and those around you. Otherwise, things might just go out of control. 
According to studies, camping in extreme cold results in numerous deaths counts every year. The frigid temperatures become irresistible to handle, resulting in severe hypothermia or frostbite issues that eventually lead them to face death. 
And the sad part is, these occurrences majorly happen with those who are not much experienced as a camper.
Therefore, it's best to avoid camping in cold weather if you are yet a newcomer to this world. Unlike the warmer weather camping, camping in winter demands specialized camping gear for snow and extra clothing because snow camping will just make it too difficult for you to overcome the problems in conventional camping trails.
Besides, there are other things to consider, as winter tends to bring unpredictability to the adventure. Here are some common challenges listed below,
1. Extreme winds
One of the challenges of cold weather camping is extreme wind. When the wind blows hard, keeping your tent pitched or your fires lit can be challenging. In addition, this can make it feel even colder than it actually is, leading you to be affected by either hypothermia or frostbite. 
2. Condensation
During cold weather camping, condensation can be a big problem, especially if you don't take proper precautions. This occurs when warm air hits a cold surface, such as the ground. This can lead to water droplets on the surface, contributing to the growth of mold and mildew.
3. Extra Weight Carriage
One of the biggest challenges of winter camping is dealing with all the extra gear. From bulky coats to extra blankets, it can be hard to stay comfortable while carrying everything you need. But by being strategic about what you pack, you can make your winter camping trip a success.
Things to Consider for Camping in the Cold
As mentioned earlier, cold weather camping demands extra gear requirements as well as other preparations.
Packaging the gear will not suffice unless you make the necessary preparations before camping. Therefore, we have divided this part into two sections, each of which will cover the crucial procedures and items to consider before embarking on your winter adventure.
1. Check on the Temperature Ratings
In winter, determining which campsites are snow-covered and which are not is quite difficult. As a result, you should check the temperature values ahead of time.
It will help you ensure that the snow level does not affect your trip. Also, you will be able to take some extra precautions and give it a thought before finalizing the place as your next camping spot.
2. Find the Right Campsite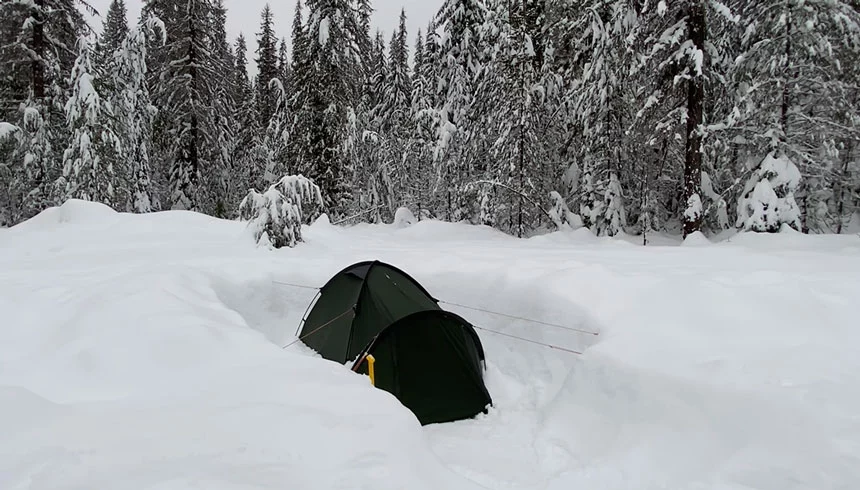 When camping, there are a number of factors that go into finding the right place to rest. While a good location is essential, so is choosing a comfortable campsite.
Just as you are finished with the temperature readings of different campsites, it's given you an overall idea about how cold each camp can be. You can now pretty easily determine which grounds will be covered in snow and which will not. 
Depending on those data, you can now look a little deeper into the information for each campsite. Try to get in touch with the local folks or fellow campers who have had experiences. They will help you understand the surrounding of the place and whether you should be counting that as your camping destination.
You should also be mindful of the facilities and privacy of that particular campsite. After all, you will have to be there in comfort and safety. Your plan is to enjoy the adventure, not to live in fear!
3. Study the Weather Forecast
This step is critical in knowing whether your chosen camping spot will have the outdoor temperature you desire. 
You definitely wouldn't want to go to a campground where the temperature may gradually drop, leaving you stranded in your tent. This will be a total plan boomer! 
Therefore, try studying the weather forecast and predict how the temperature ratings may fall or rise during your stay. 
However, you should not count on the weather to be consistent. You may consider changing your choice prior to the trip if the weather does not seem suitable enough. 
4. Campfire Arrangements
Who doesn't enjoy a good campfire?  It's what makes the whole camping trip lively and enjoyable. But apart from that, this is also an excellent option for a warmer environment.
Campfires work great in colder temperatures making the atmosphere warmer and better at the same time. It can keep you safe from the frigid cold at night as well as assure protection from potential dangers. 
So, it's a must that you keep the arrangements ready for setting campfires. Some campgrounds may provide you with the necessary campfire resources, while others may not. In such cases, you will have to bring your own or collect some kindling, firewood, twigs, and barks right from the place. 
5. Proper Tent Setup
One of the most important things to remember when setting up a tent is to make sure you are doing everything correctly. Failing to do so could lead to significant problems that might give you the worst experience of a camping night.
Setting up a tent is no easy task. You will have to pack all the essential tenting gear. Unlike summer tent setup, tents for winter camping require a lot more gear resources. After all, you expect the tent to keep you warmer, saving you from the colder weather effects. 
Tents come in different sizes and styles. When buying a tent for camping, you need to consider the number of people who will be sleeping in it and the size and type of the camping site you will be camping on.
Aside from that, you'll require some more camping materials to make your stay more comfortable. The essential elements to consider for proper camp setup are given below.
6. Smaller Tents
Smaller-sized tents are preferable for winter camping. As these tents are designed to have less space on the inside, it allows your body heat to stay congested, keeping the place much warmer compared to the outdoors. 
On the other hand, if you choose to go with a larger tent set up, the air circulation will flow more freely. As a result, the place will be much colder than you'd expect.
However, Larger tents are better for families or groups of people who wish not to feel cramped inside. Smaller tents tend to be stuffy when too many people try settling in the congested space.
7. Tent tarp or Rainfly
If you're planning on winter camping, one way to make sure you stay warm is to use a tent tarp. Tent tarps can serve as added insulation, preventing cold temperatures from entering your tent. You can either place a tarp as a canopy over your tent, wrap the whole tent body, or use it underneath your tent floor to shield cooler ground temperatures.
There are a few things to keep in mind when using a tent tarp for winter camping.
First, make sure the tarp is big enough to cover the entire tent. You don't want any gaps where cold air can come in.
Second, secure the tarp well, so it doesn't blow away in the wind.
And finally, if you're using the tarp underneath the tent, be sure to put something under it (like a ground cloth) so that it doesn't tear.
8. Tent Footprint
A tent footprint provides a layer of insulation between your tent and the ground. It helps to keep the interior of your tent warm by preventing colder temperatures from seeping in through the floor.
Over time, exposure to sunlight, rain, and wind can degrade your tent's fabric, causing it to lose its waterproofing and become more vulnerable to tears and holes. A good quality footprint will also shield your tent from much damage, helping it last longer.
9. Tent Heaters
Electric heaters or a propane heater can make winter camping more comfortable. It can keep your tent space warmer and assure you a good night's sleep. Here are a few things to consider when choosing an electric heater,
First, you'll want to consider the size of the heater. If you're only heating a small space, like a tent, you won't need a very powerful heater. But if you're trying to heat a larger space, like an RV, you'll need a more powerful heater.
Second, you'll want to consider how long you'll need the heater. Some electric heaters are designed to run for long periods, while others are only meant to be used for short periods.
10. Sleeping Pad / Sleeping Bag
There are a few key things that sleeping pads or bags do to keep you warmer on winter camping nights.
First, they provide a barrier between you and the ground, which helps to prevent heat loss.
Second, they insulate your body from the cold air outside, trapping heat close to your body.
Finally, they can be used to reflect your body heat, providing an additional layer of warmth.
Sleeping pads or bags are an essential part of winter camping gear, and they can make all the temperature difference on a cold night. Make sure you have a good one to keep you warm and comfortable all night long.
11. Extra Blankets
There are a few different ways to use extra blankets to stay warm on a winter camping trip. One is to drape them over your sleeping bag simply. This will add an extra layer of warmth and help to keep the cold out.
Another way is to use them as a ground cloth. This will help insulate you from the cold ground and keep you warm throughout the night.
Either way, using extra blankets is a great way to stay warm on cold winter nights. So if you're planning on doing some winter camping, make sure to pack plenty of blankets!
Key Takeaway
Many people feel confused about how cold is too cold for camping, and we have tried answering that here in this blog post. We have also added information on what things you should consider while camping in the winter and what challenges to expect.
So, if you're thinking about camping in the cold core temperature, make sure you're prepared for the worst. Bring extra blankets, warm clothes, and a hot water bottle, and be sure to pack a stove and plenty of food. Cold weather camping can be a great experience, but only if you're willing to rough it a bit.
Frequently Asked Questions